What we'll cover in this support article:
What is a carousel link?
The carousel is a versatile link type that allows you to add an interactive group of images, or a single image that can be clicked to reveal more content.
Free plan limitations
Only a single carousel can be used
Only a single banner can be added to a carousel
Pro plan features
There are no limitations on the Carousel. Add as many carousels and banners as you need.
Adding a carousel
Go to your admin page
Click the "Explore Links" button and select "Carousel"

Now that you have a Carousel, go to the next section to add some content.
Switch the toggle in the bottom left corner to enable your link
Adding a carousel banner
Click "Banners" on a carousel link

To add a new banner, you can either click the + next to the horizontal list of banners or after opening the banners list to edit, selecting "Add Banner +" button
First, select an image. See below for more information on the correct size.

Next, add some Image Alt Text.
An image alt is just a description of the image you've selected. If there is some text inside the image, use that as the alt text.

Optionally, you can add a URL that will send your followers to the desired location when clicking on the banner. Clicks will be tracked and shown with each banner.

Switch the toggle in the bottom left corner to enable your banner
On the pro plan, you can add as many banners as you'd like. Users will be able to swipe to access each of them.
Creating a banner image
You can use a number of programs to create your banner images. We recommend using Canva to help create your images. Below you'll find the recommended dimensions for banner images.
Short banner
Recommended image dimensions: 1300x650px
Minimum image dimensions: 650x325px
Default banner
Recommended image dimensions: 1300x900px
Minimum image dimensions: 650x450px
Square banner
Recommended image dimensions: 1300x1300px
Minimum image dimensions: 650x650px
Changing the settings
You can change the height of the carousel, randomize the order of your banners, and show/hide the controls within the settings panel.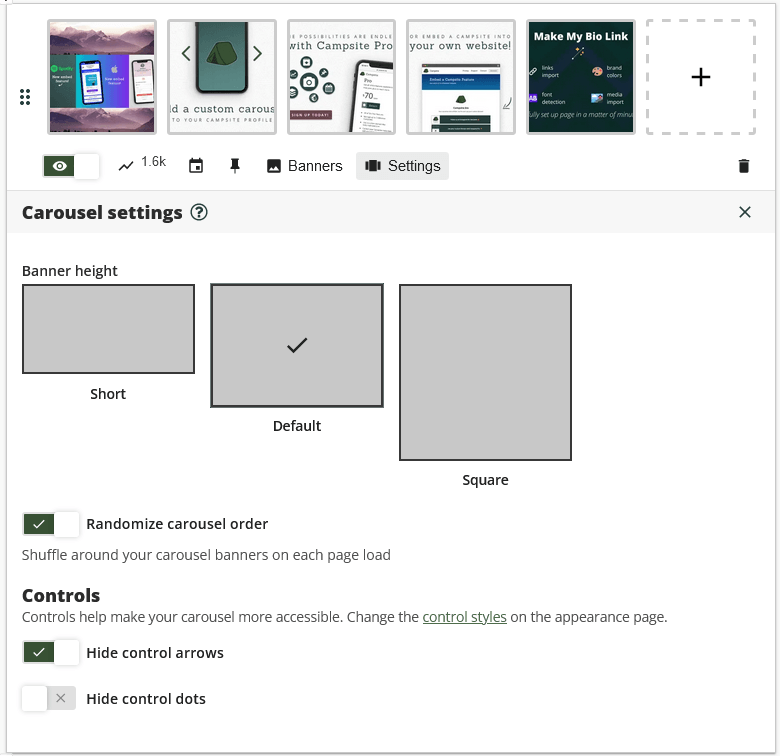 Changing the appearance settings
You can change the background color, loader color, and control styles of the carousel on the appearance page.

Frequently Asked Questions
Why isn't my banner showing up?

Make to enable your Carousel link and the banner that you'd like to show up by toggling on your link . Look in the bottom left corner of each link/banner to find the toggle.
The image I want to select is greyed out

The image you upload for your Carousel has to meet the minimum dimension requirements to be selected. Any image that doesn't meet the requirements won't be selectable.
Still have questions? Contact us.